Emmy Award winning producer and the 2018 American Martial Arts Hall of Fame Action Star of the Year David Lockhart, aka the official "Rock and Roll Actor," grew up in the backwoods of Oakland, CA.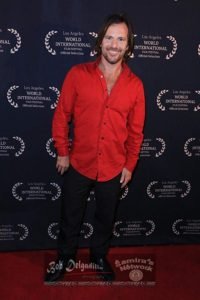 After studying at the American Conservatory Theater in San Francisco and being the lead in productions including Bernard Shaw's Misalliance, and Tennessee William's Orpheus Descending, David became a writer, producer and correspondent for TechTV's Emmy Award winning shows X-Play and Internet Tonight. His career continued with starring roles in the independent films The Crow: Purgatory 2, The Dead and the Damned, Playing with Dolls, Dead Ant, Rock n Roll Zombie Apocalypse, Senior Entourage and the action thriller, Lockhart: Unleashing the Talisman, the first film in a trilogy inspired by his own family history dating back to Robert the Bruce, the king of Scotland.
As a rock star front man, David has toured all over the world spreading the good gospel of rock and roll. He recently performed at the legendary Clock Tower in Mumbai, India. As the lead singer of the Stereoblasters, he toured Japan and China and has opened up for iconic rock bands including Jefferson Starship, Big Brother and the Holding Company, and Ray Manzerik, Bobby Krieger, and John Dunsmore of the Doors at the 45th Anniversary of the Monterey Pop Festival.
In 2018 David received an honorary media award as part of the national launch of SSTV in Beijing, China, and the Best Actor award at the 2018 LANFA International Film Festival. In his spare time, David enjoys practicing martial arts moves with his five-year-old son and overseeing theater and music events hosted by Artistspalooza, a 501©3 nonprofit that he created to support other artists.
For more information, visit rockandrollactor.
For more information including pictures and videos feel free to visit rockandrollactor.
– IMDb Mini Biography By: David Lockhart